Did you know that by age four 80% of dogs, and 70% of cats show signs of dental disease? Dental disease in pets can cause inflammation or infection that, if left untreated, leads to chronic pain, eroded gums, missing teeth and bone loss. Fortunately, there are easy steps you can take to help ensure your pet's mouth stays healthy and clean.
Quick pet dental facts
Tartar and plaque can be easily removed with brushing, but after 48-hours plaque starts to calcify making it difficult to remove from your pet's teeth.
Untreated dental disease can lead to pain, tooth loss, infection and can spread to vital organs, such as the heart, liver and kidneys.
Regular dental care can help your pet avoid the need for complicated dental procedures that cost an average of $1500.
Preventative pet dental care
Pets need a professional dental cleaning once a year. Dental health is an important part of every pet's well-being. Veterinarians recommend yearly dental cleanings in order to keep pets healthy and to prevent dental disease.
Pets should receive their first dental cleaning at age two. Pets need dental care for the same reasons we do. Instead of waiting until you notice tartar buildup and bad breath, schedule a dental cleaning by the time your pet is two years old.
Pets need their teeth brushed at least three times a week. Try to make brushing your pet's teeth part of their regular routine. Just three sessions of brushing your pet's teeth a week can prevent serious dental disease and helps keep your pet healthy.
Pets need their teeth brushed for 60 seconds per session. Clean your pet's teeth in small circular motions. Starting on one side of your pet's mouth, gently lift the lip and clean outside of the teeth and gumline. If your pet is new to getting their teeth brushed, start slowly and keep the session light and fun.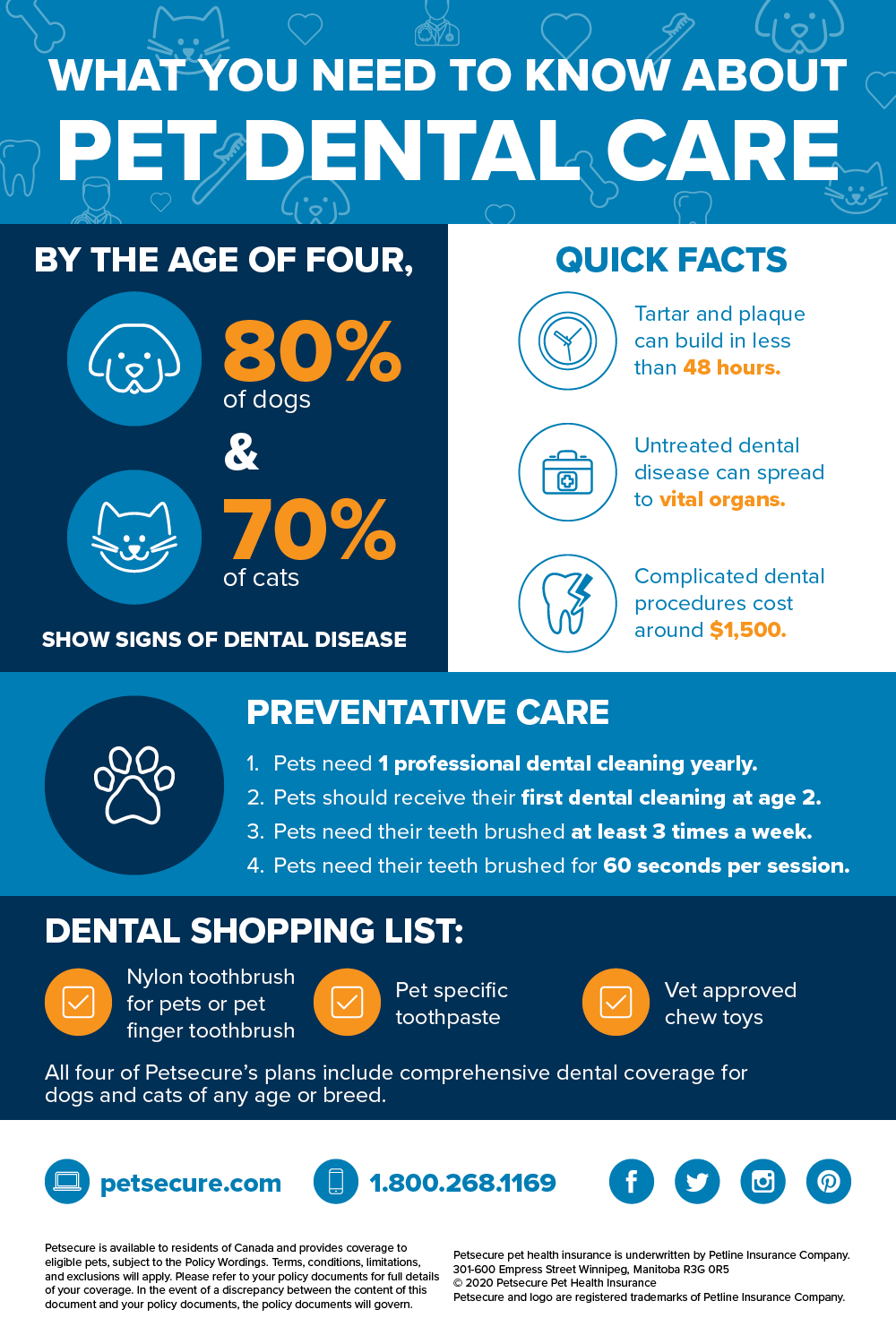 Keep your pet's teeth clean and you'll both be smiling!
Proper pet dental care can be a money saver and even a lifesaver in some cases (as it increases your pet's chance at a healthy happy life). Improper pet dental care can lead to costly and often painful vet visits down the road. Keep your pet's teeth clean and you'll both be smiling!
Pet insurance can help with your pet's dental care
To read more about caring for your pet's teeth, visit our blog post Dental care 101 – how to keep your pet's teeth clean and healthy.

Find out what's covered by Petsecure plans and get a free quote today.

Want to share information about pet dental care with others? Share these tips on Facebook or Twitter.