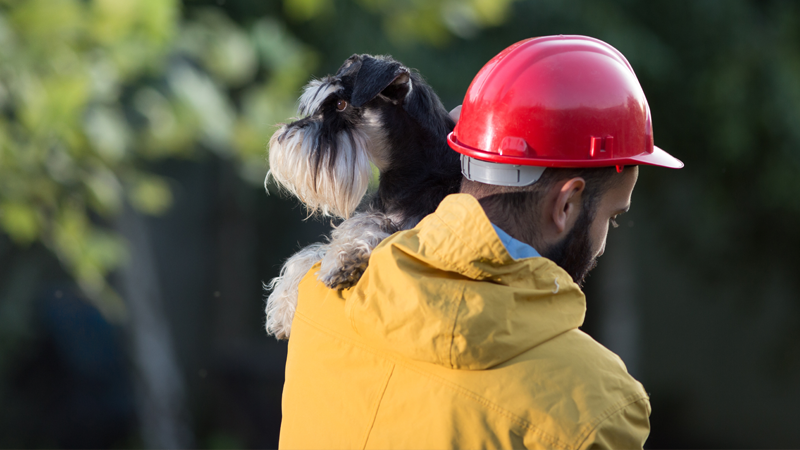 National Pet Fire Safety Day is recognized every year on July 15th as a time to bring awareness to pet owners about the dangers of fire in the home.
Pets can be the cause of accidental house fires
Pets are often attracted to heat sources and may be curious about open flames.

Monitor dogs and cats in the kitchen while you are cooking. Both cooktops and ovens create enough heat to scorch paw pads or cause severe burns. Pets may tip hot pots and pans, which can result in cooking fires. Consider removing or covering front-mounted stove knobs to reduce the risks of dogs jumping up and turning on individual elements.
Never leave candles, fireplaces, portable heaters, or other heat sources unattended when pets are roaming free in the home. Inquisitive pets, especially cats, can singe whiskers and tails, or worse, knock over candles and heaters. Extinguish any open flames when you leave a room or immediate area and consider fireplace barriers and baby gates to prevent accidental contact. If you enjoy the ambience of candles, consider electric "light bulb" decor instead.
Teething kittens and puppies seem to like the taste of electrical cords and loose wires. They can burn their lips and tongues in less severe situations, but electrocution and death are also possible. Where the electrical charge is great enough, the current can ignite carpets or furniture. Use bitter-tasting sprays or enclose cords in PVC-type tubing to minimize the ability of animals to sink their teeth into these items.
Prevent pet access to outdoor fire hazards. Leash or kennel your pets when spending time outdoors near barbecues, campfires, sparklers, and fireworks.
Have a Fire Escape Plan
Include your pets in your family fire escape plan. Discuss how you might take your pets with you while emphasizing human safety to younger family members. In the event of a fire, leave your home in the quickest and safest way and take your pets where possible.
Keep pet carriers and leashes accessible – in bedrooms or at both front and back doors. Animals may panic when they smell smoke and hear alarms and sirens. Remove small pets in carriers and bigger dogs on leash to prevent escape into the neighbourhood.
If you cannot take your pet with you, leave doors open and call the pet. Pets may run toward your voice if you call them as you are evacuating from the home.
Know your pet's hiding place. Many pets will go to their safe space, whether that's their crate, a closet, or under the bed, while others will zoom behind toilets or up into the rafters when afraid. Make sure that your pet's go-to hiding places are included in your family emergency evacuation plan and house map.
Firefighters will do their best to rescue your pet. Let the firefighters know your pet's last known location and potential hiding places. Where it is safe to do so, they will attempt to retrieve your pet.
Develop an Emergency Information Kit
Consider keeping important pet-related documents such as microchip/tattoo identification, vaccination information, prescriptions, and photos in a fire-proof safe along with other family and insurance documents. Pets may need to be hospitalized for smoke inhalation and burns or lodged in a boarding kennel if stable.
Pet insurance can help with the cost of vet visits
In the event of house fires, Petsecure provides coverage for pet veterinary care as well as boarding where customers themselves are hospitalized. Learn what's covered by Petsecure and get a free quote today.